6 Surprising Realities About the Real Estate Market Right Now
Think back. Way, way, back to March, when we were all just learning about COVID...
Every hour, there was a new update about the virus, a new round of stay home orders, and lots of predictions about how the economy would weather a pandemic. Back then, there was reasonable concern that the real estate market would crash. The uncertainty made it difficult to even imagine what would happen in the coming months if you were looking to buy or sell a home.
Fast forward to now. No, there hasn't been a 2008-level crash (which I predicted wouldn't happen). In fact, the real estate market is still going strong in many markets. Yet, there are some very big (and surprising) trends going on in our "new normal." Here are the top six and (a bonus election-related take):
ONE | Inventory is Still Very Low
The pandemic basically cut off the spring market before it could really get underway. Few wanted to open their homes to prospective buyers — though the rise of virtual tours made it possible to have the most socially distant open house ever. Still, with the uncertainty of the job market, ever-changing hot spots, and the difficulty of doing all the normal stuff to prep for a sale (decluttering, staging) during stay-at-home orders, only the most motivated sellers listed.
As you can see from the chart below, available homes for sale started on a sharp decline in April.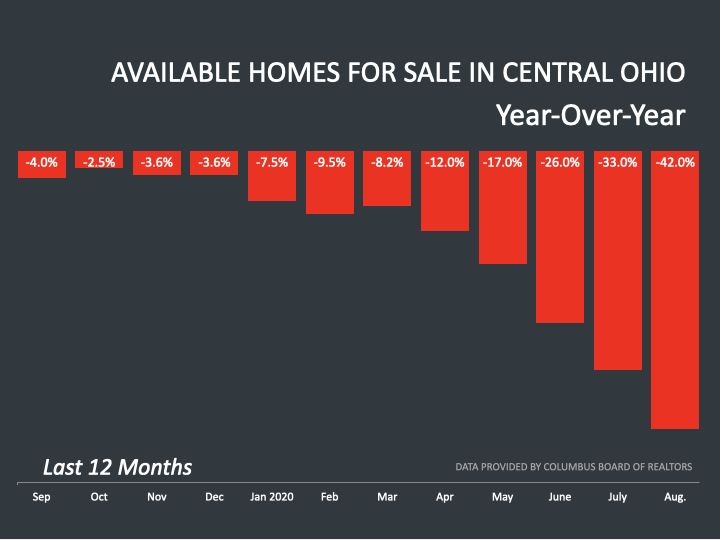 TWO | Rates Remain Historically Low
One of the first big headlines of the pandemic, when it came to real estate, was when interest rates were slashed big time. Of course, many took advantage by refinancing their home. As months passed, though, the continued low-interest rates motivated prospective buyers to enter the market and enjoy the savings.
Rates are almost one percentage point lower than this time last year making homes more affordable than they were a year ago.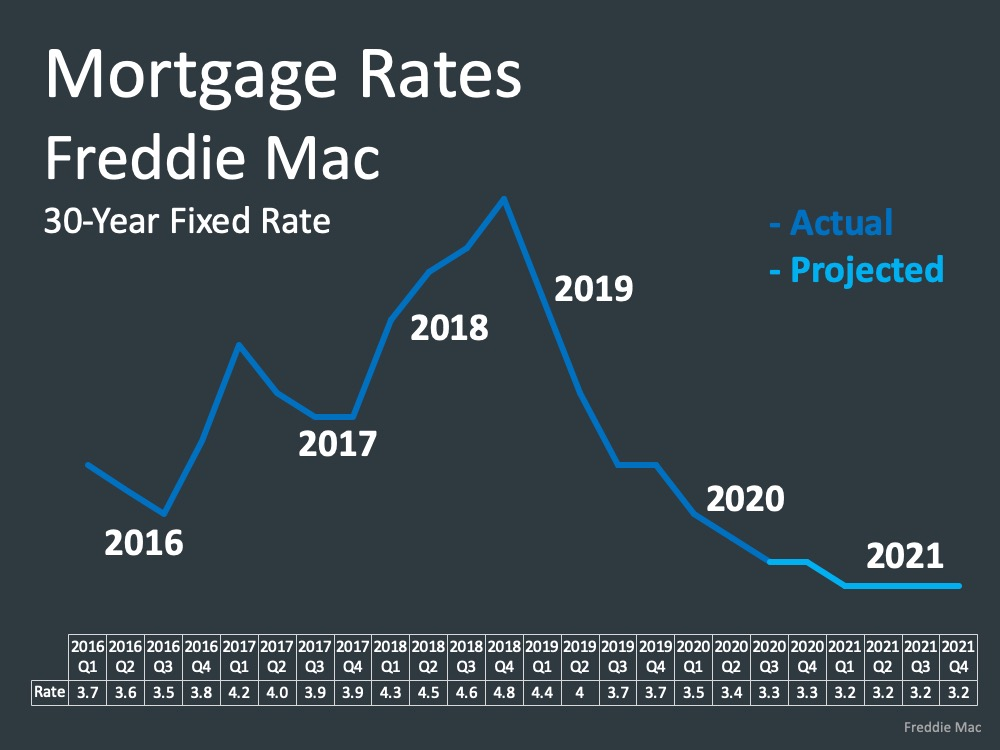 THREE | There's a lot of competition if you're a buyer
The shift to remote work means that many people can move to an area they love, not one that is convenient for a commute. Often, these are high wage earners who can afford to submit an offer above asking price — especially if they sold their home at the right time or in a pricey market.
The number of homes for sale (supply) is a relatively easy thing to quantify (see Number One above). However, the demand for homes is a bit more tricky. But, one of the key metrics used to determine housing demand is the number of people applying for mortgages, or "Purchase Applications."
As you can see in the chart below, there have 15 straight weeks of purchase applications. This indicates there are plenty of buyers in this market - as much as 33% more than this time last year.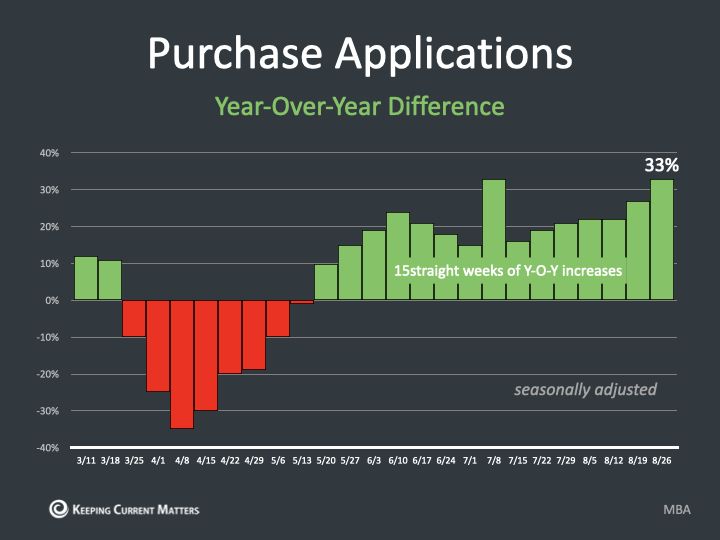 FOUR | Homes are selling very, very quickly
When there are fewer listings and plenty of buyers, your dream home may be a blink-and-you'll-miss-it opportunity.
For buyers, this means that you should be preapproved (not just prequalified) in order to get your offer considered. For sellers, you may have a little more leeway on things like condition and contingencies.
In August 2020, a $280,000 Central Ohio home (average sales price for region) spent 15 days on the market until it had an accepted offer. That's 33% fewer days on the market than the same time last year.
FIVE | Prices have climbed
All of the above factors have pushed prices higher in most areas. In fact, 96% of cities saw home prices rise between April and June. Markets that didn't see the same growth were generally ones that had completely shut down during that time (like New York City).
The average sales price of a home in Central Ohio increased by eleven percent from April to August (from around $250,000 to $280,000).
SIX | 2020 May Beat 2019
Despite the global pandemic, the 2020 housing market may be on pace to beat 2019 (2021 is likely to be even better).
This great news for everybody in the Buckeye State since every real estate transaction here pumps about $55,500 into our economy. That's about $103 billion or 14.8% of the state's economy in 2019.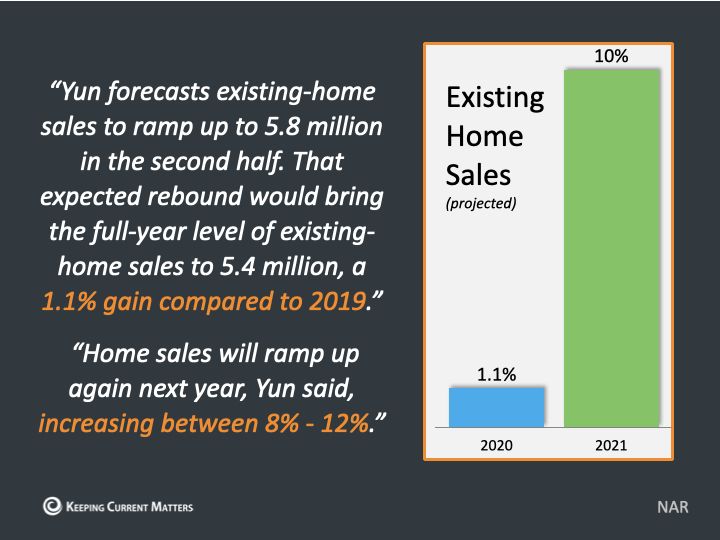 BONUS | Will Election Affect Market?
There's no doubt - 2020 will be remembered as one of the most challenging times of our lives. A global pandemic, a recession causing deep unemployment, and a level of social unrest perhaps never seen before have all changed the way we live. Only the real estate market seems to be unaffected, as a new forecast projects there may be more homes purchased this year than last year.
As we come to the end of this tumultuous year, we're preparing for perhaps the most contentious presidential election of the century. Today, it's important to look at the impact past presidential election years have had on the real estate market.
Is there a drop-off in home sales during a presidential election year?
BTIG, a research and analysis company, looked at new home sales from 1963 through 2019 in their report titled One House, Two House, Red House, Blue House. They noted that in non-presidential years, there is a -9.8% decrease in November compared to October. This is the normal seasonality of the market, with a slowdown in activity that's usually seen in fall and winter.
However, it also revealed that in presidential election years, the typical drop increases to -15%. The report explains why:
"This may indicate that potential homebuyers may become more cautious in the face of national election uncertainty."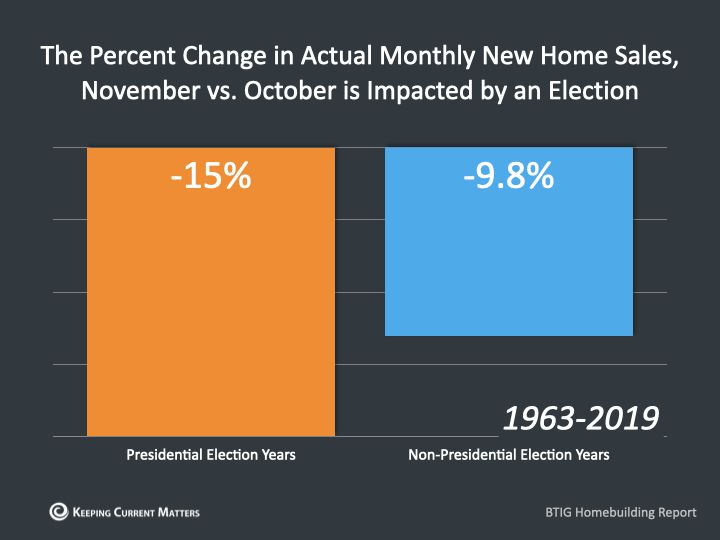 Are those sales lost forever?
No. BTIG determined:
This caution is temporary, and ultimately results in deferred sales, as the economy, jobs, interest rates and consumer confidence all have far more meaningful roles in the home purchase decision than a Presidential election result in the months that follow.
In a separate study done by Meyers Research & Zonda, Ali Wolf, Chief Economist, agrees that those purchases are just delayed until after the election:
"History suggests that the slowdown is largely concentrated in the month of November. In fact, the year after a presidential election is the best of the four-year cycle. This suggests that demand for new housing is not lost because of election uncertainty, rather it gets pushed out to the following year."
Will it matter who is elected?
To some degree, but not in the overall number of home sales. As mentioned above, consumer confidence plays a significant role in a family's desire to buy a home. How may consumer confidence impact the housing market post-election? The BTIG report covered that as well:
"A change in administration might benefit trailing blue county housing dynamics. The re-election of President Trump could continue to propel red county outperformance."
Again, overall sales should not be impacted in a significant way.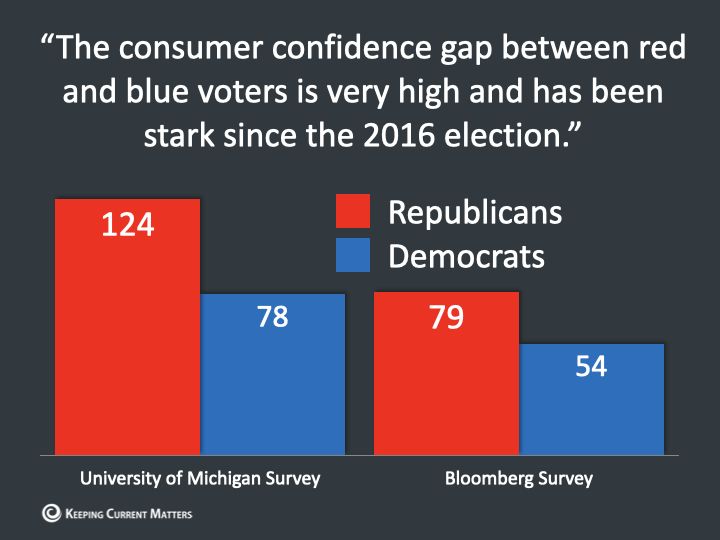 Bottom Line
If mortgage rates remain near all-time lows, the economy continues to recover, and unemployment continues to decrease, the real estate market should remain strong up to and past the election.
Let's Talk About Your Reality
What Buyers Are Looking For Right Now